.Army Rotte.
This is the name the boys called themselves and still do. It means army rats.
These are their comments as they start to get to know each other and develop the groundwork that makes them Papa Troop. Tempe was the camp in which they stayed.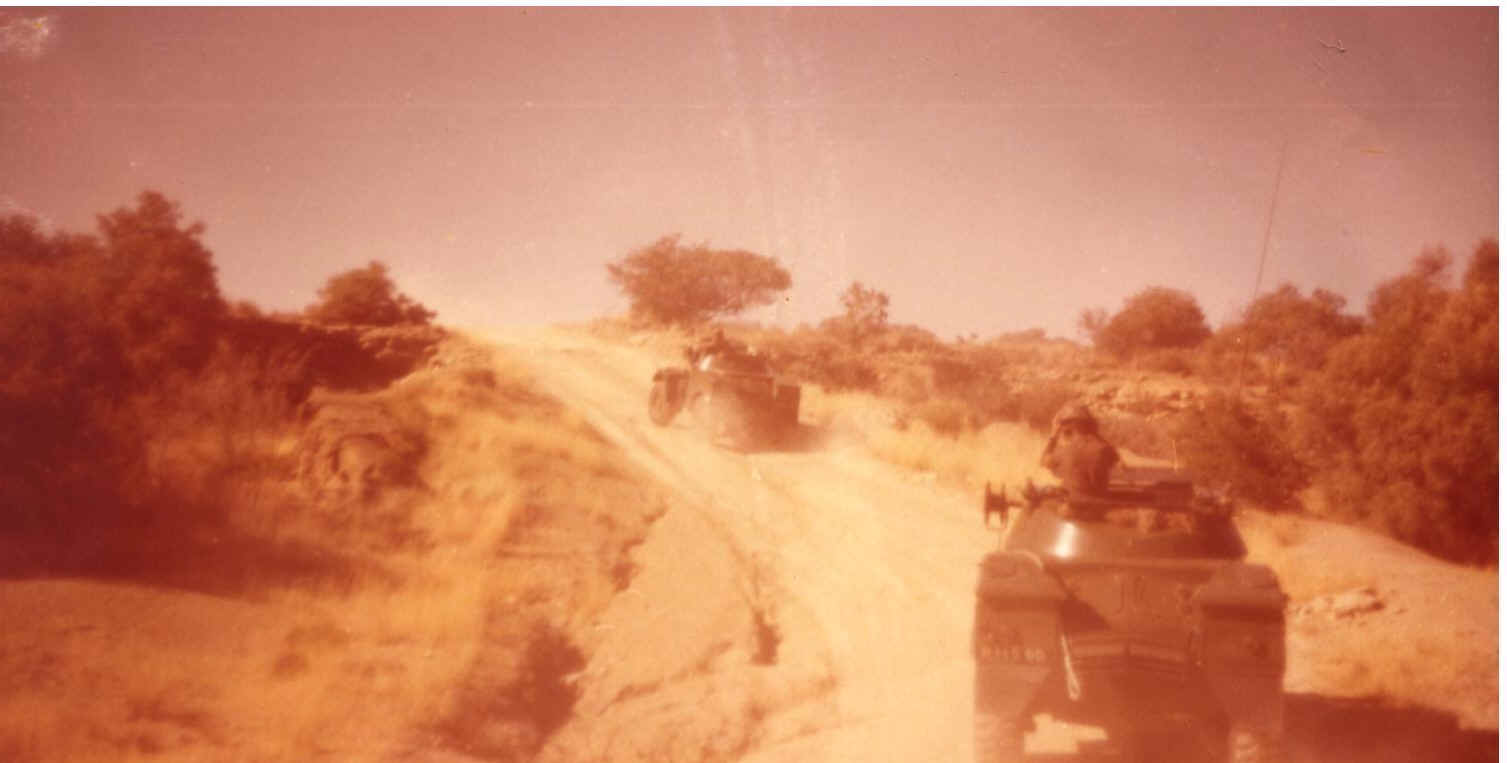 60mm Eland armoured cars
De Brug
This is the training ground in Bloemfontein: It was 120 square miles in size. Stephan recalls: When we were in the field they brought out food in Stainless Steel cases , The food was awful , it was cold and just tasted bad. Even the Gibson boys did not like it. Both David and Eion agreed after Jeppe Boarding school food, army food was delicious.

Pranks
There was a Sherman tank and every morning we had to go for a run around Tempe- If you were quick you jumped into the hatch of the tank and stayed in the tank until the guys came back then slipped out and joined them. Running became a nightmare. You had to run 8 kms every morning in 30 minutes or do it again. Brian Borchards was always out of time and was sent on a rerun automatically. It did not take us long to discover that even if you did the run on time, if you were with or near Brian you went again. As soon as we got within a kilometer of the camp, Brian was allowed splendid isolation to complete his run.
We had a party and the sleeping bag got hurled in by David. He took it back to the stores and said it was defective. They took it back and reissued him with a new one.
S. F. chained Dave Pattern to his bed and left him there for a day. SF used to unpack his trunk every time he needed something it really got to us.
Army life.
We had joined for two years so we got Permanent force privileges- this meant we had a small carpet next to our beds- we were all very proud of our carpets.
We learnt to chew the sides of our beds to get straight lines. David Gibson recalled his biggest problem: as being square socks- he was convinced the army was designed to make them all nuts.
In the our bungalow there was the Gibson twins, Stephan, Devillers, Zigler, Sakkie, Lombard, Rodger Wally Brown, and a haka clerk roofie in our bungalow.
No 34 bungalow had B squadron there including Brian Hewitt from Natal.
David Gibson became known as "Tiffie" because him and Eion were taught by their Father how to fix cars. They got a lot of practice in the army and saved the day with this knowledge on many occasions.
Bayerfeild was a our squadron captain he is now a General in the armed forces. He was a star captain in Angola, but in camp he was not on our favoured officers list.
Porky was our Sergeant Major, in camp he was a though swine, but in Angola he looked after us very well. An example of his tender care in camp was our daily run. Porky decided that our camp was dirty. He said he had found two matches and a cigarette butt on the ground. He decided since we were such pigs our daily run needed some attention. Accordingly he gave us a pole to run with. The poles were heavy so he allocated three men to a pole. He must have had a great time putting the shortest people with the tallest.
Not content the next day he decided to add to our pole with a fire bucket, empty to get in the way. The next day he decided to do the same thing but he filled the bucket with bricks. Picture it, three completely different sized men carrying a pole with a bucket swinging madly trying not to spill these bricks.
Shell containers were filled with stones for his next trick. Running with a filled shell container takes some beating for sheer fun.